1. Recent Water-related News
1-1 A Landslide in Colombia (Cauca)
- April 24, 2019 Colombia Reports, "Colombia ups number of Cauca landslide deaths to 32" (Link)

1-2 Floods and Landslides in South Africa
- April 25, 2019 news24, "KZN floods: Death toll up to 85" (Link)

1-3 Tropical Cyclone Kenneth in Mozambique
- May 6, 2019 africanews, "Cyclone Kenneth leaves trail of devastation in northern Mozambique" (Link)

1-4 Tropical Cyclone Fani in East India and Bangladesh
- May 25, 2019 The WIRE, "After Cyclone Fani Wreaks Havoc, Economic Disruption Upends Lives in Odisha" (Link)

1-5 Floods and Landslides in Indonesia
- Apr 29, 2019 CBC, "Indonesia floods kill at least 31, thousands displaced" (Link)

1-6 Floods in USA (Midwest and South)
- Jun 3, 2019 USA TODAY, "Horrible scenes: More rain threatens areas swamped by record floods in central, southern USA" (Link)

1-7 Floods in China (South and South East)
- June 17, 2019 FloodList, "Floods Leave 88 Dead and 388,000 Displaced" (Link)

2. International Conferences, Forums, and Programs
JICA Training Course: Water Related Disaster Management supported by IDI-Japan
A JICA training course, 'Water Related Disaster Management' was held from May 19 to June 19, 2019. Twelve participants from nine countries (Afghanistan, Brazil, Fiji, Kenya, Liberia, Malaysia, Mexico, Somalia and Sri Lanka) attended and learned about Japanese policies and countermeasures against water related disasters.
Ministry of Land, Infrastructure, Transport and Tourism (MLIT), National Institute for Land and Infrastructure Management (NILIM), Public Works Research Institute (PWRI), National Research Institute for Earth Science and Disaster Resilience (NIED), and private firms gave lectures on a wide range of topics.
The participants visited Tsurumi River, Amagase Dam, Uji River, Katsura River and Yodo Rive for technical field study regarding improvement and management of rivers and dams in Japan.

| | |
| --- | --- |
| 3L Water Level Gauge in Tsurumi River on 27 May | Visit to Aamagase Dam on May 29 |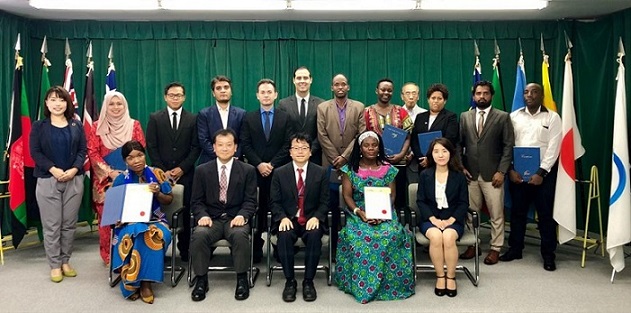 Closing Ceremony on June14
3. A Field Survey of Flood Disaster in Kerala, India
Survey in Kerala conducted by MLIT and supported by IDI-Japan
In August 2018, India's Kerala State experienced the worst flood in the past 100 years, which killed about 450 people. Flood control discharge operations were implemented in many dams in Kerala, and flood overflow from the dam body occurred in Poringalkuthu Dam in Chalakudy River Basin.
In May 2019, Ministry of Land, Infrastructure, Transport and Tourism (MLIT) of Japan conducted a survey for the purpose of providing a technical proposal to the government of Kerala and World Bank for upgrading the existing dams and flood mitigation measures in the basin. The survey team is consisted of dam experts from MLIT, Japan Water Agency, International Centre for Water Hazard and Risk Management (ICHARM), a private firm and IDI. The team conducted field surveys on the three dams including Poringalkuthu Dam and exchanged opinions with India's Central Water Commission, Kerala Government officials and World Bank India officers.
Through the survey, the following four issues and the response measures were clarified for the future activities:
- Flood Control by Dam Operation
- Rainfall and Water Level Observation for Flood Prediction
- Integrated Management of Dams
- Dam Inspection including Discharge Facilities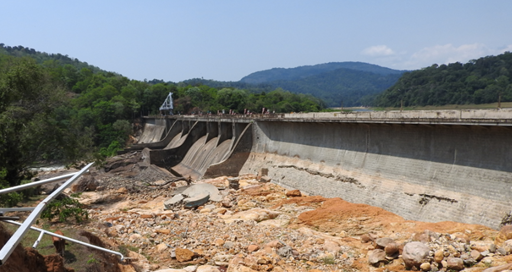 Poringalkuthu Dam after the 2018 Floods
(The highest overflow level during flooding was about 2m higher than the dam crest)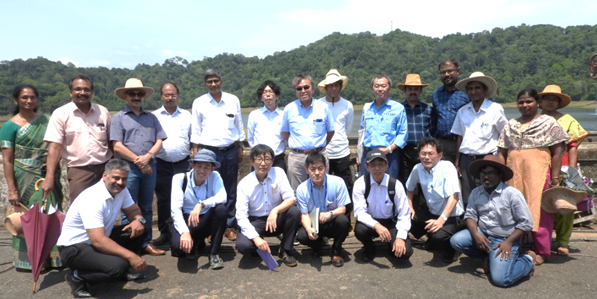 The Survey Team and Dam Operators
3. Others
IFNet is an open network, purpose of the activities is to share experiences and information on flood issues. We look forward to your active participation and flood related information to be shared among participants. If you have any information you would like to share with IFNet members via Newsletter, please email to the IFNet Secretariat for contact.


Registration
If you and your partners are willing to join the IFNet, Please send e-mail to IFNet Secretariat with following information.

1. Name, 2.Nationality, 3.Organization, 4.Position, 5.Address, 6.Telephone number, 7.E-mail Address


When you are Transferred
When you are to be Transferred, please introduce the IFNet to your successor.
Thank you.