1. Recent Water-related News
1-1 Flood in Middle East (Yemen, Oman, Saudi Arabia, Jordan, Iran and Iraq)
- November 9, 2018 FloodList, "Middle East - Heavy Rain and Flooding in Iran, Iraq and Kuwait" (Link)

- December 4, Hindustan Times, "21 killed, thousands displaced in Iraq floods in 2 days: Health ministry" (Link)

1-2 Typhoon Yutu = Rosita (Philippines and North Mariana Islands)
- October 30, 2018 Weather.com, "Typhoon Yutu Was the Strongest Tropical Cyclone on Record to Pass Over Saipan and Tinian in the Northern Mariana Islands: Red Cross" (Link)

- November 5, 2018 The Manila Times, "Rosita death toll rises to 27" (Link)

1-3 Storm in Italy
- November 5, 2018 news.com.au, "Fatalities rise in Italy's worst storms and flooding in decades" (Link)

1-4 Cyclone Gaja (India and Sri Lanka)
- November 18, 2018 The Indian Express, "Cyclone Gaja: Death toll mounts to 45; Palaniswami urges Opposition leaders to join relief work" (Link)

1-5 Typhoon Toraji (Vietnam)
- November 19, 2018 VE Express, "Typhoon Toraji aftermath: popular Vietnam beach town inundated" (Link)

2. International Conferences, Forums, and Programs
- IDI provides operational support in the workshops. -
2-1 Vietnam-Japan Workshop
The 6th Disaster Management Collaboration Dialogue Workshop between Vietnam and Japan was held in Hanoi, Vietnam on November 9th, 2018.
This workshop was based on the MOC (Memorandum of Cooperation) between Vietnam's Ministry of Agriculture and Rural Development (MARD) and Japan's Ministry of Land, Infrastructure, Transport and Tourism (MLIT) in the fields of Water Resource Management, Water-related Disaster Management and Climate Change Adaptation.
More than 200 people from the two governments, local authorities, Japan Bosai Platform (JBP) and private companies attended. This year's theme was 'Learning from Recent Disaster.'


| | |
| --- | --- |
| 6th Disaster Management Collaboration Dialogue Workshop | Opening Speech of Mr. Tran Quang Hoai, Director General of VNDMA, MARD |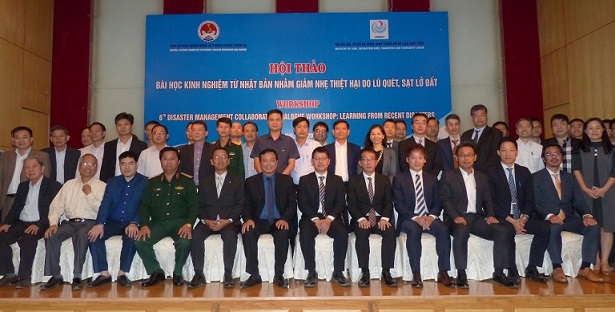 Group Photo of Workshop
2-2 Indonesia-Japan Workshop and Japan Technology Fair on Disaster Risk Reduction
The 4th Collaboration Dialogue Workshop between Indonesia and Japan on Water Related Disaster Management was held in Jakarta, Indonesia on December 6th, 2018.
This workshop was based on the ministerial MOC (Memorandum of Cooperation) signed between Indonesia's Ministry of Public Works and Housing (PUPR) and Japan's Ministry of Land, Infrastructure, Transport and Tourism (MLIT) in the field of Disaster Management.
The key themes of 2018 workshop were 'Sharing the Disaster Risk Reduction Index' and 'How to Quantify Disaster Risk Reduction and How to Utilize for the Policy Decision.' Sessions were conducted with attendance of PUPR, MLIT and JICA.
In addition, 2018 is the 60th anniversary year of diplomatic relations between Indonesia and Japan, and 'Japan Technology Fair on Disaster Risk Reduction' was also held on the same day in which 25 Japanese companies introduced their technologies with presentations given by both governments.

| | |
| --- | --- |
| 4th Collaboration Dialogue Workshop | Japan Technology Fair |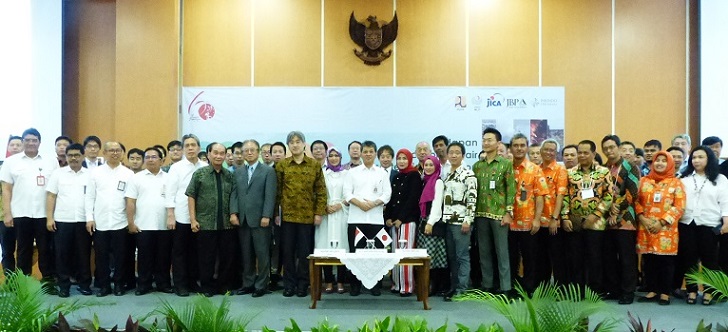 Group Photo of Japan Technology Fair on Disaster Risk Reduction
3. Others
IFNet is an open network, purpose of the activities is to share experiences and information on flood issues. We look forward to your active participation and flood related information to be shared among participants. If you have any information you would like to share with IFNet members via Newsletter, please email to the IFNet Secretariat for contact.


Registration
If you and your partners are willing to join the IFNet, Please send e-mail to IFNet Secretariat with following information.

1. Name, 2.Nationality, 3.Organization, 4.Position, 5.Address, 6.Telephone number, 7.E-mail Address


When you are transferred
When you are to be transferred, please introduce the IFNet to your successor.
Thank you.